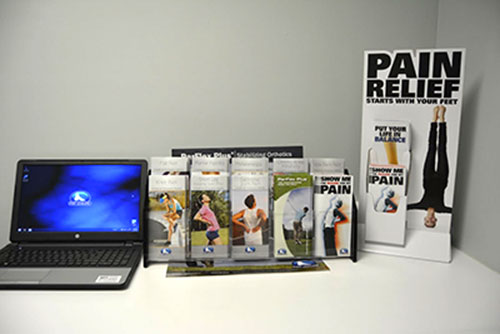 Did you know that as many as half of all Americans overpronate or roll inward at the ankle? This results in rotation of the entire leg, lowering of the pelvis, hips and even the shoulders. It is a major contributing factor in knee, hip and lower back pain. Watch the videos below to see an animation of this mechanism.
Since overpronation is so common, and after observing back pain suffers recover more quickly by correcting overpronation, we decided to screen for this on every new patient. We use the Associate Platinum 3D from Foot Levelers. The Associate provides an accurate measurement of arch height not previously achieved through scanning technology. The goal of leveraging technology like this is to achieve rapid results.
Certainly not everyone is a candidate for orthotic therapy or this particular style or brand for that matter. We have many orthotic options for your unique needs and we will help you choose the one that's right for you. Dr. Shawn Burns has advanced training in foot, gait and orthotics and has the ability to custom make a pair that you can leave the office with on the same day! After a thorough history and exam, including a discussion of what types of sports activities and footwear you use, the right solution is recommended.
The ultimate goal is to train your feet to function without the device, if possible. At the heart of all of our services is the desire to coach you towards wellness. We provide gait training, foot exercises and recommendations based on your unique needs so that you can stay well. Come experience "the difference between treating effects and adjusting the cause". Call 315-261-4866 to schedule.